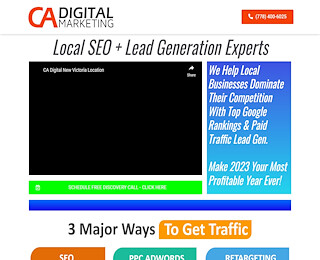 Search engine optimization in San Diego brings organic, high-converting traffic to your site and is an invaluable technique for any business today. If you have a business, you might be wondering whether to outsource San Diego SEO or do it in-house. So, when does it make sense to enlist the services of an SEO agency or go the DIY route? Ultimately, your decision should be hinged on which option is the most beneficial for your business.
At CA Digital Marketing, our commitment is to help your website improve its ranking on the search engines. That way, more people will find your site, and your conversions can increase exponentially.
Benefits of DIY SEO Vs. Outsourcing to A Pro
DIY SEO is a cheaper alternative compared to outsourcing to an SEO agency. Besides, you're the one who truly understands your business best. This arms you with better insights into how customers interact with your business, search, and buy.
On the other hand, do-it-yourself SEO means handling multiple time-consuming responsibilities simultaneously. In addition, a majority of in-house marketing teams are often overstretched. Additionally, there's so much your in-house team can do, given that SEO is a broad concept that is ever-changing.
Keeping up with the updates and learning new SEO trends when you have other roles and are not a pro can be quite challenging. While your in-house team can easily understand the basics, more advanced techniques are usually hard to decipher and implement.
Why Outsourcing is Always the Best Option
Here's why you should hire SEO services in San Diego:
SEO is Constantly Evolving
The only constant in SEO is change. Approximately there are ten updates from Google each week, that's about 500 changes every year, and it may be almost impossible to keep up, especially if you have other obligations you're juggling. The job of pros is to stay up-to-date with the latest changes, consistently test new techniques, and ensure search engines do not penalize you. As an entrepreneur, you have your business to worry about. Leaving SEO to professional SEO agencies in California will save you time, effort, and frustration.
Your Competition is Outsourcing SEO
It doesn't matter whether you're competing with local brands or national and international businesses; if you are not taking the time to work on SEO, you will lose out to your competitors. To catch up, overtake, rank higher, and drive high-converting traffic than your competition, you stand a better chance by outsourcing your SEO. The fact is, to succeed in today's digital marketing space, you require complete dedication that the best San Diego CA SEO providers can offer, given this is their job description.
We'll Help You Climb the Ranks
As one of the top-rated SEO companies in San Diego, you can be sure our online marketing services work. We're known for delivering big results and putting businesses on the map over and over again, no matter the size. If your business requires visibility, our San Diego SEO services will deliver the results your business needs. Reach out to CA Digital Marketing today for a free consultation: 415-422-9928.