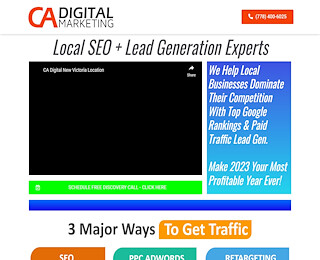 SEO is a broad concept that requires skill and expertise. The digital marketing tool has different aspects that must all come together for successful results. For instance, SEO companies in Long Beach have to consider that search engines like Google ensure users get relevant, fresh, and engaging content. Additionally, Google strives to lock out bad SEO. All these affect the ranking of a website.
At CA Digital Marketing, we take pride in our effort to uphold excellent and profitable SEO practices. We are unsurpassed in integrity, thoroughness, and the best Long Beach SEO practices to help our clients rank at the top of SERPs.
SEO Services Provided by 99% of SEO Providers Vs. Advanced SEO Tactics Used by Us
There are hundreds of SEO agencies in California that still use basic methods. But because of the ever-changing nature of SEO, it's crucial to stay on top of the game to deliver the best outcomes.
99 percent of SEO providers:
The last Google Core Update, in December 2020, saw many websites flunk. Why? Most of them failed to anticipate the changes. And without planning for updates, you'll see your website ranking dwindling over time.
Just over a decade ago, Google hadn't consolidated their search engine, making it easier for SEO providers to manipulate the system. As such, black hat methods like keyword stuffing or link spamming could boost your site's ranking almost overnight. But with today's annual Google updates, this is no longer possible.
Spammy SEO techniques may seem to work initially, but they lead to penalties sooner or later. These strategies, also known as black hat techniques, include buying and selling links, hidden links, doorway pages, comment spam, and more.
Other SEO agencies still use keyword stuffing and duplicate content, which, though not illegal, still causes you to rank lower on Google.
The Advanced SEO Tactics we Use at CA Digital Marketing
There are reasons why our SEO services in Long Beach are second to none—we utilize advanced SEO practices, and they include:
Keywords are not what they used to be a decade ago, but they're still relevant. Today, their application is a blend of science and art. So you need to have the right balance; not too many, not too little, and most definitely not the wrong ones.
As one of the best Long Beach CA  SEO providers, we focus on long-tailed keywords that many SEO agencies mostly ignore. We also take advantage of location or geographical keywords, for example, Pizza Hut, CA. Using the most appropriate keywords is key to getting you more visitors, generating even more qualified leads each month.
Our team utilizes this newer SEO concept. Essentially, topic clusters are different content pieces on your site connected to a common subject, referred to as pillar content. Topic clusters come together and use internal linking to offer insights into what your pillar content is all about. The result is a boost in user experience that improves your search performance.
Let's Grow Together
Do you want your business to thrive? Our unexcelled Long Beach SEO is what you need. We'll develop a second to none strategy that will help you reach your business marketing goals and feature top on SERPs. See your business performance soar as your brand is exposed to targeted users using search engine optimization in Long Beach. Reach out to CA Digital Marketing today for a free consultation: 415-422-9928.